The Guild FLA Flattener is used to take the coil set out of the lead and tail end of the coil during feed-up and tail out. It is designed to handle strip up to about 36″ in width.
FLT FLATTENER EXCLUSIVE BENEFITS:
Eliminate cumbersome peeler blades
Eliminate cumbersome strip center supports
Quick and easy threading of new coil end into next piece of equipment
Increased mill up-time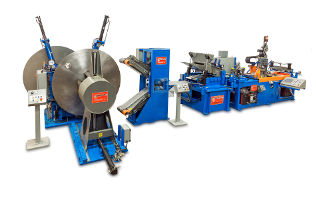 Why Choose Guild
Since 1958, Guild International has led the industry as a world leader in designing and manufacturing coil joining and strip accumulating machinery. We continue to meet the rigorous engineering and design expectations that our clients have come to value. Guild's equipment continues to increase productivity and yield on thousands of installations around the world on virtually all types of coil processing lines and materials.
Our team of designers and sales engineers are dedicated to providing innovative products and services that exceed our customers' expectations to help make them more productive and profitable.
Our promise is simple: To take the time to come to know and understand our customers' needs for coil processing and strip accumulating, and to then provide those customers the most appropriate, high quality equipment to increase their productivity and profit.
Complete entry systems from Guild International can be customized to accommodate your line needs. Commonly included in our entry systems are our double arm uncoiler, outboard coil retainer, speed funnel, shearwelder, and accumulator. Any item may be added or subtracted from this list to better suit your needs.
Guild International offers a complete line of coil end welders for almost any application. Our patented product line includes Zipwelders(TM), resistance welders, semi-automatic shearwelders, and strip accumulators including Supercoils®, Superloops(TM) and Continuous Coils. Guild also produces a full line of rotary and cropshears along with uncoilers, speed funnels, and flatteners. Plus, our team of engineers will help you determine your needs and ensure proper equipment design and compatibility with your existing equipment. With Guild's coil processing machinery, you can improve your processing line's productivity and stay competitive in today's business world. Put Guild International to work on your strip processing needs today.
CONTACT US TODAY FOR MORE INFORMATION ON HOW GUILD
INTERNATIONAL CAN HELP WITH YOUR COIL JOINING NEEDS